OUR MESSAGE
Sri Ramanuja, a revolutionary social reformer and humanitarian, liberated millions of people from social, cultural, and economic discrimination with a foundational belief that every human is equal regardless of nationality, gender, race, caste, or creed.
Sri Ramanuja distilled ageless vedic scriptures and ancient wisdom to promote the timeless message of equality that
"Nature is inherently non-discriminatory and Equality is cornerstone of life"
Thank you for choosing JET USA Inc. for your contributions. We are a registered and recognized non-profit 501(c)(3) organization. All donations to our organization are 100% eligible for tax deductions.
[su_heading size="24″ margin="1″ class="test"]MODES OF PAYMENT[/su_heading]
Online payment through PayPal. PayPal allows you to use credit/debit cards.
You need a PayPal account to use credit/debit cards via PayPal
Make checks payable to   JET USA INC. and mail them to the asramam address
222 DEY ROAD, CRANBURY NJ 08512. If you wish to donate please include STATUEOFEQUALITY in the memo field so we can appropriate the funds accordingly
Contact : [email protected]
                  (609) 297 – 8797
[su_heading size="24″ margin="1″ class="test"]DONATION CATEGORIES[/su_heading]
JET USA Inc. in addition to the local causes and activities supports all the spiritual and service activities of our parent organization JET in India under the aegis of HH Sri Swamiji. You can choose to donate for any of these categories or you can give a general donation.
[su_heading size="24″ margin="1″ class="test"]DONATION RECEIPTS[/su_heading]
We keep track of all donations made throughout the year and sends out receipts during the tax season. For further questions about donations, payments or receipts please contact us at [email protected] , (609) 297 – 8797.
USE THIS TAX ID FOR YOUR TAX PURPOSES
Federal Tax ID: 36-3977444
DID YOU KNOW THAT YOU COULD DOUBLE YOUR DONATIONS WITH CORPORATE MATCHING PROGRAM
JET USA has corporate matching eligibility with certain companies. If you work for any of the following companies, please use your company's internal site to match your contributions. Thank you for choosing JET USA Inc. for your contributions. All your contributions are 100% eligible for tax-deductions under the 501(c)(3) non-profit organization banner.
Read More
About Sri ramanujacharya:
Sri Ramanujacharya is a renowned scholar in the spiritual teaching and enlightenment, who has successfully managed to educate and bring thousands and thousands of people toward the light of spiritualism. Sri Ramanuja goes back eras and eras in understanding the purpose of why and how humans walk on the earth, with a purpose of life they should know. The statue of equality is one such initiative by the statue of equality organization where the true teachings of Sri Ramanujacharya come to light. Swami focuses on why the gender, age and caste discrimination should be taken out of the system- and thus equality is what rose. The equality is not just in this current world, he focuses on why equality and following the path of the same is important after life too.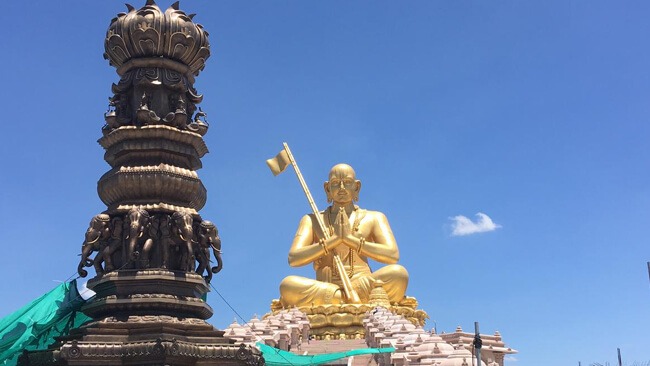 What is Donate USA?
To begin with, there are thousands of disciples of Sri ramanujacharya across the world. USA is one such place where there are many active disciples of the organization and its teachings. There are people who wish to make an impact and a contribution toward the greater good of the world and the generations to come. For those who wish to make an impact, this one acts as a portal- the Donate USA portal. This donation is not just for the statue of equality or the Ramanuja statue– but for the wider picture for the generations to arrive. All these teachings need to thrive for longer eternities, and that is why these portals have come by.
Donations come from people who feel important and a part of these ventures and of the lessons they carry- from the Ramanuja organization. People feel important and a part of this to make donations in kind and not, too the statue to build that symbolizes nothing but EQUALITY. Donation USA is a portal for the people in the united states of America who wish to be a part of this great venture. Here, you can just click and make payments and donations in clicks of seconds, as charity donors.
Why donate for this cause?
The main teaching of charitable organizations USA has been that compassion is what brings all of us together. Compassion giving is that one factor that decides on how good a person can be, whether or not is needed at that point. Donations often fall under the category of compassion giving. Compassion drives people to do things that others might consider a little too selfless. The donations that people make under this portal often give a lot of benefit to the organization to accomplish what they have been planning to do. The statue of equality is that stands tall and strong about all the ideologies that will follow through the generations. All you need to do is just click on the donate button to make sure your donations have been done.
Time and again, the statue has been in talks for all the important things it symbolizes in the long run. Charitable organizations USA too would agree with what the main idea of this is- the equality of one and every one present under the skies.
What to do, if not charity or donations?
For people who wish to go for long and huge fund raising activities, here is the right portal they have been looking for. The fundraising USA is the portal that allows people to have activities that would raise funds for the statue of equality. Donation organizations too exist across the globe that will let you do offline donations as well, just that you need to make sure of the areas and the availability of the same. There are more than a couple of fundraising ideas that will allow you to see through the ideas you already have.
The Sri Ramanuj statue is something that holds a lot of importance to a lot of followers and disciples of Jeeyar Swami.